Functions and Catering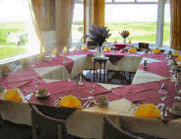 Visit "The Link's Restaurant & Coffee Lounge"
The dining room can accommodate up to 100 and is set on the ground floor for easy access to all. The dining room is supported for main functions by a newly created bar also situated on the ground floor.
Function catering is provided by outside caterers.
The caterers have received many plaudits from visitors regarding the standard of both food and service provision.
The Club hosts wedding, family celebrations and other functions and details are available on request from the Caterer.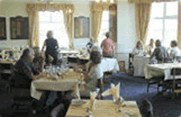 Facilities are also available for small meetings and conferences, break out rooms can be arranged.
The club also has an excellent sandwich bar service
To discuss catering services please contact the Chair of House (Christine Giles) on telephone 01253 773573 (Option 4) or email: secretary@fleetwoodgolf.co.uk
Bar Winter opening Hours
Sunday 11.00 - 16.00
Monday 10.00 - 16.00
Tuesday 10.00 - 16.00
Wednesday 10.00 - 19.00
Thursday 11.00 - 15.00
Friday 10.00 - 14.00
Saturday 11.00 - 16.00